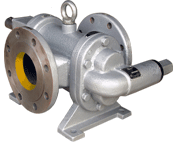 AERN Series
Positive displacement rotary twin gear pumps type AERN series for pumping and transfer of all kinds of viscous liquids and petroleum products.
From 1/2" to 6" (Flanged to ASA 150 classes).
Capacity: 0.5 to 200 m3/hr, Press up to 12 kg/cm2.
Viscosity up to 1,00,000 -cst, Temperature upto 110° C
Features (Heavy duty gear pumps)​
Heavy duty gear pump design for continuous application

Herringbone rotor design eliminates side thrust

Modified tooth profile enhances tooth life.

Floating gear-design ensures uniform load distribution.

Low-leakage path by design improves volumetric efficiency.

Shorter bearing span reduces the bending effect

Optional steam jacket
Applications
Steel plant

Power plant.

Petroleum industries

Refineries

Pumping Station

Tanker loading & unloading
AFP Series
High precision positive displacement internal gear pumps to match the most demanding application in boilers, burners, hydraulic, fuel pressuring and injection. This pump is ideally suitable for handling liquid like LDO, FO, LSHS and can be used as a booster pump for diesel locomotive, force feed lubrication, oil filtration system, oil pumping and heating systems and in machine tools units.
Applications
Fuel injection in burners, boilers, furnaces

Booster application in diesel locomotive

Force feed lubrication

Heating system.
Features (Internal gear pumps)​
Higher suction lift

Self-priming and capacity to create vacuum up to 600/650 mm Hg

Flange & Foot mounting option

Inbuilt relief valve

External by-pass arrangement

Zero leakage Mechanical Seal

Continues duty pump
SG Series
This pump series is useful for pumping and transfer of all Viscous Liquids, Oils and Petroleum products.It is available in cast iron grade with single helical alloy steel gears and hardened and ground shafts. It has a sturdy design and construction to give long and trouble free life and performance. Ultra bronze bush material ensures smoother running than conventional phosphorous bronze.
From 1/2" to 3".
Capacity range: 20 to 500 LPM.
Max pressure: 10 kg/cm2, Max Temp: 80° C
Applications
Vegetable Oil Mills

Refineries

Ceramic Industries

Pumping & transfer or all kind of mineral oils
Features (Helical gear pumps)​
Single helical gear design.

Lower Noise.

Compact & Economical

Easy maintenance

Optional high-temperature version up to 200°C
SS Series
For Transfer of corrosive chemicals and liquid.
The pumps have SS 316 gears and shafts that are nitrided to give longer life with trouble-free performance. The shaft is supported on self-lubricating type Teflon coated DU bushes and the sealing is done with Teflon based Z Pac sealant which gives zero leakage and is easy to maintain. These pumps are available in flange and foot mounting types.
Applications
Food and Beverages

Pharmaceutical Industry

Dyeing and printing Houses

Chemical industries

Cosmetic industries
Features (Stainless Steel gear pumps)​
PTFE coated bush for smooth performance in dry bearing condition

Easy cleaning & maintenance

Optional steam jacket

Foot & Flange mounting option
SGX
The flanged mounted gear pumps are useful for pumping and transfer of all viscous liquids, oils and Petroleum Products.
Applications
Centralize lubrication system

Pumping & Heating System.

Oil filtration and cleaning system

Transformer oil purification system

Machine tools industries
Features (Flanged Mounted Gear Pumps)
Compact design.

Economical Prices

Wide capacity range

Optional external ball bearing support to drive shaft

Foot & Flange mounting options
Lobe Pumps
Rotary lobe pump use timing gears to eliminate contact between the rotors, which allows their use on non-lubricating fluids. These pumps offer low shear and gentle handling of the liquid to minimize product degradation.
They are popular in diverse industries due to their sanitary qualities, high-efficiency reliability, corrosion resistance.
Applications
Food industries

Chemical industries

Pharmaceutical industries

Dairy industries

Petrochemical industries

Sewage plant
Features (Rotary Lobe Pumps)
Robust construction

Compact size

High efficiency

Reversible operation

Hygienic design

Easy maintenance

Interchangeable rotor

Handling low as well as a high viscous liquid

Ideal for delicate media & where organic solid suspended particle in liquid